If you're moving into a new apartment home at Arcadia Run, you are probably thinking about bringing along everything from your previous home. If you already live in an apartment home at Arcadia Run, then you've probably thought about redecorating your space. Thanks to HouseBeautiful.com, we have put together a guide to makeover a room (or two for the more ambitious) in only one day!
Clear out: Take everything out of the room and clear the space. This will give you a clean slate so that you can imagine what it will look like.
Clean: While the space is cleared out, clean the room! You'll feel much better about redecorating if you are also being productive.
Rearrange the space: Plan out a new way to rearrange the furniture in the room, whether that means swapping the couches, or completely thinking of a new setup. Believe it or not, there are tools online where you can virtually arrange everything in the room before you even move the furniture.
Don't break it up: Apartments look larger when big objects and furniture are up against the walls, so try your best not to break up the room by putting things in the middle of the space.
Move lighting: Lighting plays a surprisingly large part in the way a room looks. While you are rearranging furniture, think about where the lighting can move to best suit the arrangement.
Switch out one piece of furniture: If you have the time and money to do so, go for it and buy a new piece of furniture. A simple, updated piece will give the room a new vibe.
Cover it up: Don't want to buy a new piece of furniture? Cover it up! There are plenty of inexpensive options for slipcovers, tablecloths, etc. to disguise your existing furniture.
Paint your furniture: Although painting furniture does take time, this could make the largest impact on a room. If you are ambitious enough to paint your furniture, there are plenty of quick fix paint options.
Accent pillows and new accessories: Accent pillows and other accessories, like art, can largely contribute to the colors in a room, and are relatively inexpensive to replace. If you want the full effect of a room makeover, this is a great way to add pattern and color.
Add greenery: Plants bring a friendly element to a room, and it is an easy way to brighten up the space with color.
No matter how you decide to redecorate the space, there are many inexpensive and quick ways to give your apartment home an update. Learn more about how you can rent a new apartment home at Arcadia Run by visiting our website today!
Sources: freshdesign.com, housebeautiful.com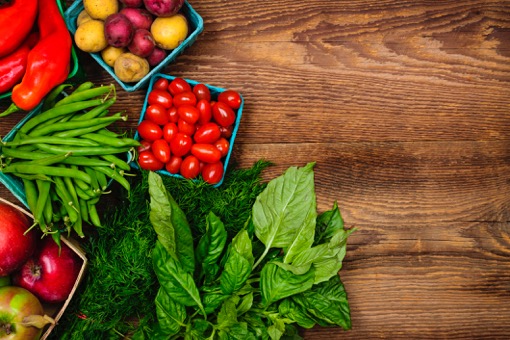 The Historic Manassas Farmer's Market, located in Downtown Manassas behind the Harris Pavilion in parking lot B, is held every Saturday, 9:00 am to 1:00 pm. We are so proud of our local farmer's market, which Prince William Living Magazine recently named as one of the best in the area!
From the fresh produce and signature sweets, to the one-of-a-kind products and organic goods, the Historic Manassas Farmer's Market can't be beat. Read on to learn about a few of the many fabulous vendors featured in Historic Manassas' Farmer's Market this year:
A Sign for the Times
Manassas, VA
A Sign For The Times by Ashley is home to a number of handmade, graphic design signs in a wide variety of styles, for all ages.
Calico Jack's
Bristow, VA
Calico Jack's is well-known in the Manassas-Bristow area for their hand crafted, natural and organic products for the body and home. From soy candles, lip balm, deodorant and lotions, to goat's milk soaps, organic face oils and powders, these are some of the best organic products in the area. Calico Jack's products are never made with harmful chemicals and are always free of sulfates, parabens and phthalates. Visit Calico Jack's website for more on their unique selection of natural and organic products.
Crosby's Crab Company
Manassas, VA
Crosby's Crab Company offers the best seafood in Prince William County with a wide array of both raw and cooked shrimp, blue crabs, oysters and lobsters. This market-fresh seafood company has become so popular, in fact, that it was recently named one of the best places to find the freshest seafood in Washington by the Washingtonian! For more on Crosby's Crab Company, check out their website.
Del Sur Baked Goods
Springfield, VA
Del Sur Baked Goods offers a long list of specialty cookies, Peruvian-style cakes, authentic, custom-filled empanadas and even custom butcher blocks! For more on Del Sure Baked Goods, visit their website.
Loopy Scoops
Manassas, VA
Loopy Scoops offers a delicious selection of local, homemade ice cream scoops, ice cream sandwiches, gelato, sorbets, sherbets, and popsicles. Check out Loopy Scoops on Facebook for more on this local legend!
Taste of Old Country
Gainesville, VA
Taste of Old Country offers a wide range of balsamic vinegars, extra virgin olive oils, seasonings, spices and more, all of which are created right here in Manassas, VA! While the olives in Taste of Old Country's oils are sourced from their family olive groves in Greece, all of the final product is made right here in Manassas. For more on Taste of Old Country, check out their website.
As of this year, the Historic Manassas Farmer's Market is officially a year-round market so you can enjoy the many benefits of shopping local all year long!
For a complete list of vendors, directions and additional information on the Winter Farmer's Market, visit the Historic Manassas website. *Vendors may change by season.
Sources: visitmanassas.org, calicojacksnaturals.com, crosbycrabco.com, washingtonian.com, delsurbakedgoods.com, squareup.com/market/taste-of-old-country